Yet another first of the month – that makes four. For some reason my mum says 'white rabbits, white rabbits' rather than 'a pinch and a punch', but my long-eared creature of choice is still this funny old donkey, cruising about alongside my tent, pretending not to be interested in me.
Habits are changing. I'm choosing indoors when I get the chance – I'm writing this blog from the campsite utility block, which has a little more atmosphere than the village pub on a Tuesday night (in defence of the pub it is quite a nice utility block). Chico's fur (hair? Hide? Pelt? Coat?) has begun thickening up for winter, and he seems almost grateful – at least unusually cooperative – when I put his rain mac on him, on a drizzly night. But it's been a mild September, and I'm very glad for that. I've still not worn all my clothes in my sleeping bag, used my tiny hot water bottle, or been rained on while setting up and striking the same camp. I have sent my bikini home, but still have the suncream on board, and used it twice last week.
We've passed Carmarthen, which is the closest point to Aberystwyth until we emerge on the home straights of Cardigan Bay. First we're heading off around the great nest of silty estuaries, rocky peninsulas and merciless headlands that lie coiled in wait in Pembrokeshire. It's a formidable maze to leave till last, and I have only a very vague idea of it, as has been the case all along this journey. It's a horsey part of the world (joint first place with Anglesey for per-capita horse ownership in the UK, apparently), so I have high hopes for good bridleways, but the coastal path itself is an old, established one, which means stiles.
It could be the musing mood that comes with a change of month, or just that the first of October coincided with a day off, but I worked out where we were on each of the other firsts, and then how many miles lay between the markers – according to the Wales Coastal Path distance charts, which are of course just a rough approximation for us. But everyone likes a good stat, so here are the figures: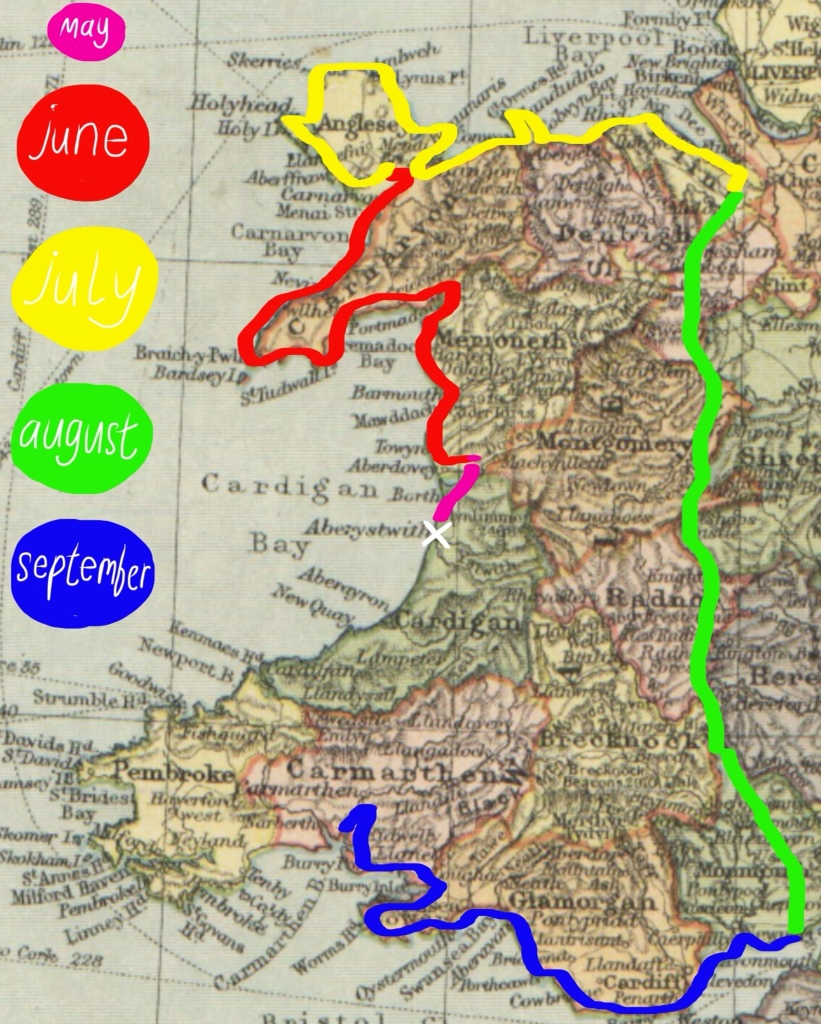 June: 184 miles
July: 211 miles
August: 170 miles
September: 211 miles
Left to go: um… Let's not look that one straight in the eye, eh? Why break the habit of a journey?
Rhys was with us for most of July and September, suggesting we go quicker with him than without, although that also might have something to do with the speedy, flat cycleways of the north and south coasts, or that we camp wild more with Rhys than without, which means we can keep walking until we drop into a hedge.
There's a long, long way still to go – the change to feeling homeward bound comes from something other than actual proximity. Hope? Or that in still failing to live in the moment I'm finding myself spending walking hours thinking about the exciting things of the future like evening classes in Welsh, watching films, wearing different clothes, doing something about the bank balance, building a shed for Chico, learning about wintertime animal husbandry and the price of hay. I woke up the other day with a feeling of surprisingly intense joy at the idea of one day wearing earrings again.
'Enough about earrings, how's that old donkey' you ask? Well, he's just a brilliant, hairy star. A terrifying gate-towing incident made me realise just how phenomenally strong he is, and I feel humbled that he lets me lead him at all, ever, anywhere. He still follows me faithfully, off the rope, and the feeling I get on seeing him labouring along behind me, ears up, head bobbing, great unreadable eyes trained on me, unquestioningly believing in my map reading skills, well… It feels a bit like love. Or gratitude. Or at least cooperation.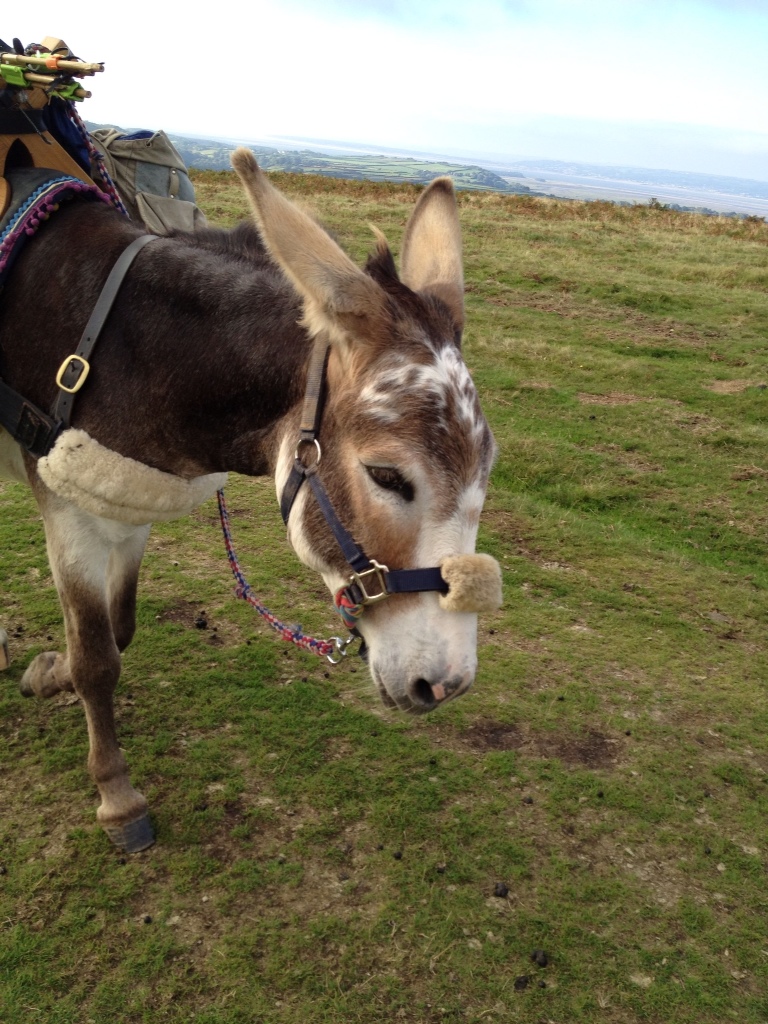 Hazel, kind owner of the field that Chico stayed in before we left, asked mum if she should get a shed built ready for Chico's winter lodgings. They both knew that day would come before Chico even left the field in May – it's only me who persists in thinking that this coastline and this summer is actually never going to end; that there is no 'after'. I may be thinking about earrings, but sheds is a step too real. The idea of stopping walking scares me as much as the idea of walking through snowdrifts – probably just testimony to a mild September. First frost will no doubt prick me into action like a icy goad.
One thing worries me. Whether I embrace it or not, I am being pulled forward towards home now, no longer pushed out into the world. When (still I feel I should say 'if') we get there, if the post-adventure crash comes, at least it will come with warm slippers and lots of tea. Perhaps I will even find some wisdom in completing the circle – knowing Aberystwyth as if for the first time… But what really worries me is this: what if Chico is really disappointed? It would be quite valid. All that way to get back to the same field? What the hell?
Maybe I should pull myself together, look the future in the eye and call Hazel – this shed is going to need to be really, really good.