I've got Chico's passport onboard, getting a bit raggedy and regularly doused in rainwater now, and it has the address where he was born on it. It's in Rhyl, a town with a bit of a rough reputation on the north coast of Wales, and we happened to be passing through a few days back, so we walked to the address. Some way down the road, between tanning parlours and tyre garages a young woman with baby on hip said, "It's Chico!"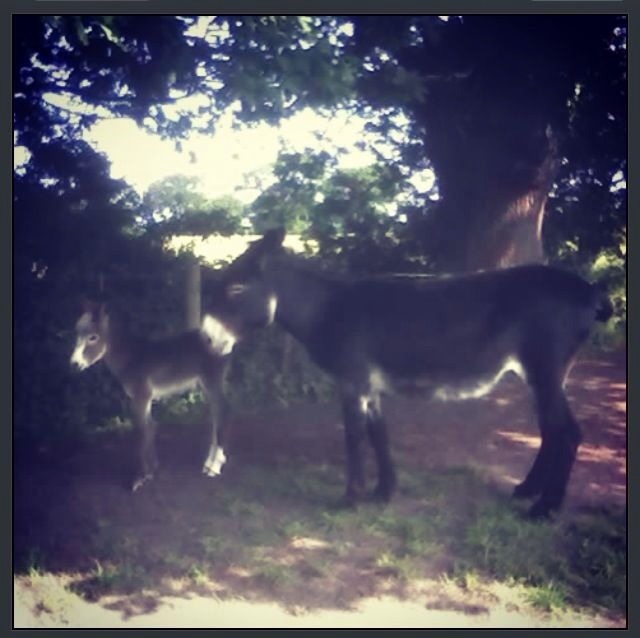 Janette, it turned out, worked for the Rhyl donkey operation for ten years, up until its dissolution last year – its patriarch Ken passed away, the council put up its rates, and all of the donkeys went to new homes and jobs. I had wondered if it was foolishly sentimental, looking out the place that the señor was born and raised, but as soon as I got talking to Janette it became clear that it was actually weirder to spend so much time with a living being and not know a little about his past. I warn you, Chico fans, it doesn't all reflect well on the fellow.
Chico's papa was a stud. Well, literally. Chico has many, many siblings, including Janette's all-time favourite donkey, Chico's sister Dixie. Papa is ginger and spotty, but nevertheless the top jack in the stable. Janette emailed me some pictures, and the genes have come through strong – Chico has papa's nose and fuzzy brow. Chico's mama gave him his kohl eyes – she's a classic looker.
And what did Chico give her, his poor mama, in return? Janette says he used to kick her for milk. He was up and chasing dogs when he was 25 minutes old. He was naughty and timid at once – he'd demand attention, but then run away when he got it.
Failed seaside donkey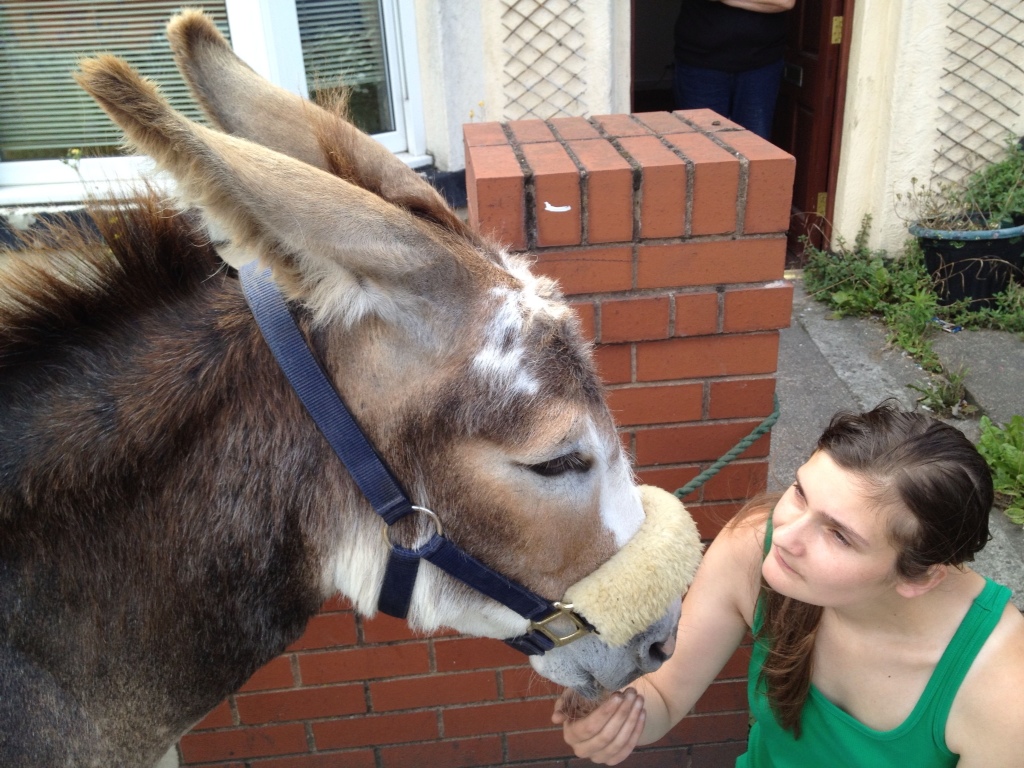 There have been beach donkeys in Rhyl since 1848, and their most recent owner, Kenneth Edward Jones, had 42 of them. When it was work time, Janette said, they used to open the gate and the donkeys would run through the Rhyl streets to the beach, pursued by the crew on bicycles. The new donkey on the block would be sent along to learn the ropes from the others, but when Chico's turn came he refused to put his hooves on the sand. So they sold the wayward little beast to the neighbouring Llandudno beach donkey setup – did they confess that he was sandphobic? I didn't ask. In any case, Llandudno's wide western sands must have remained unsullied by the hoof of Chico because he didn't stay long – he was sold on twice more, and thus came to be in a stable in Shropshire, waiting to make an impression on me as I came on by, one day in April.
It's been raining a bit since Rhyl, and Chico looks very sorry for himself in the rain. Two separate people have asked recently, as we passed, whether Chico got any say in his current fate, and I say (defensively) YES! Quite apart from the fact that he was so keen to walk out of his yard when I met him, and responded flatteringly well to my novice attempt to win him over with a little grooming, and more or less said (in the Spanish/Rhyl* accent I'm sure he has), "Com on 'en, less go fer a walk! Com on!", he also brought the whole situation on himself. Ironically, if he'd have just behaved his silly little self and followed some older sibling onto the sand in Rhyl in the first place, he would never have begun his side of the chain of events that led to his role in this most peculiar team event. So there, Chico.
* A Rhyl accent is basically Scouse. I've had many walking hours in which to try to replicate a Spanish-Liverpudlian cross, with the edge of whining-little-boy and a touch of breathless enthusiasm, but have failed so far…