On Tuesday we hit the halfway mark of this great big Kickstarter hullabaloo – a gigantic, knee-wobbling, heart-swelling £14,000, worthy of all sorts of metaphors.
Like hitting the halfway mark on the walk, I feel jubilant, a bit overwhelmed, and far from being out-of-the-woods! But the figure kept steaming onward, past Hay-on-Wye (£14,500), past Monmouth (£15,000) and then Chepstow too (£16,000).
Here's the updated mapometer™ which shows that we are in Newport, metaphorically speaking. Back in early September, when Chico and I were in the real Newport, I was just starting to think in wild, occasional dreams that we really might actually finish the walk. It could be possible!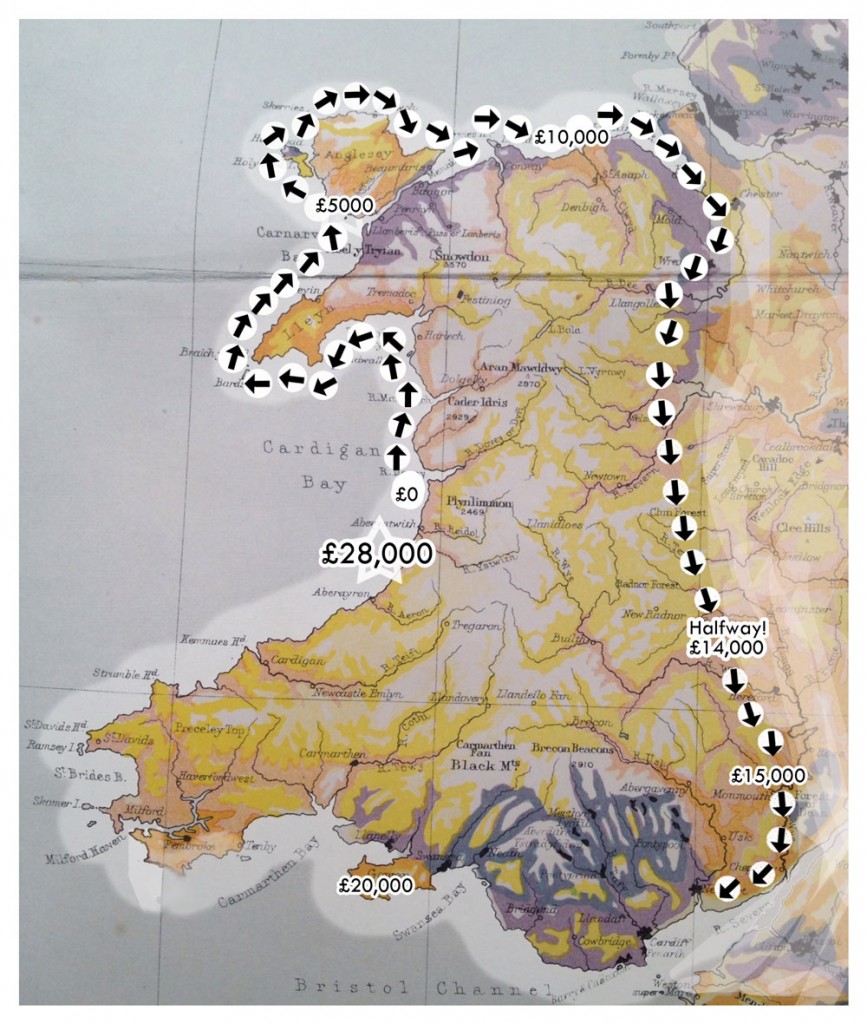 Thank you so much, as always, to everyone who has pledged and shared, sent me little messages of support, and expressed confidence in the book and film. It's all about the money, of course, but it's also all about the faith and encouragement. It's so different from the traditional idea of production and consumption, where the work is dreamed up in the lonely garret, then handed over to a big company where the investment is carefully worked out in terms of risk and demand and zeitgeist, and finally presented to you as a fait accompli.
Instead I'm sitting in my garret and there are three-hundred-and-thirty-six people in here with me, thinking this can be done, willing it to happen, and happy to hand over some notes. It doesn't so much feel like an attic of cheerleaders as a nest of inspiration. I'm a hopeful egg, and you are expectant, faithful, feathery mama birds. It's warm and boggling. You should be very proud of yourselves, I think, for not just waiting to see what Richard and Judy or Tesco think you should be interested in.
If we make it I hope you will always look at the book with the extra pride that you might reserve for looking at a cake you've baked or a hat you've knitted, because that's what's going on here – YOU are making this happen! Choosing the ingredients and mixing them all together – that was the walk; fun and messy, raw and rather haphazard. Now we're waiting so see if it rises. Will it rise? There's 13 days left to find out.
To all the first-half mama birds – thank you! Scroll down for a shy kiss from Chico.