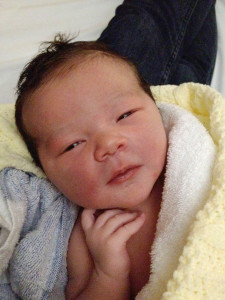 Two years ago today I got the overwhelming honour of seeing a baby born. I was the very first person to see the damp, dark hair of the truly superb little soul who has since become Lois, at 1.40am, in the gentle, dark, womblike surrounds of Lewisham Birth Centre. I stroked Sarah's back rather pathetically in the face of the grand and ridiculously painful job that she was really very alone in, and Ian and I kept each other on the right side of alarm.
In the morning, May the first, I left them for a while and wandered out onto Lewisham High Street. It's a grey, brusque, poor high street even when it's not grimacing under a thin, mean drizzle, but I thought I had never seen anything so beautiful.
Life! Beautiful life! I bought a newspaper to give Lois, and ate some beans on toast in a greasy spoon, and just floated on the absolute bloody miracle of this brief and astonishing gift.
"The veil was thin, that day," said mum.
*    *    *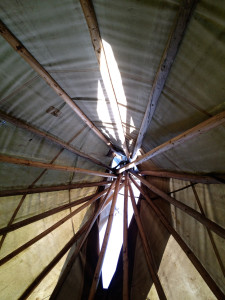 Two weeks ago I went to the funeral of Kath, another truly superb soul. She and her community had looked after Chico, Rhys and I for a few nights at the end of the first, raw, scary week of the walk, back in June. They gave us the tipi in the meadow, coffee and kindness, and space to do some learning and recovering. As we moved on Kath said to me, "It won't always be this hard. The day will come when it's easy, instinctive, and you'll enjoy it."
In July Kath was diagnosed with lung cancer, and a month ago she headed off, back through the veil, leaving children in their twenties, a little granddaughter, a husband of decades, and a hole in her local tribe. I knew her for two days.
She had wanted to feel her feet on the cool grass again, but was too ill to manage it. It's raining here today and I have to go out to see the donkeys; if I catch a few raindrops, I hope to remember to feel so, so fucking lucky. So thankful.
*    *    *
And it's a year yesterday that I bought funny old Chico, and brought him back to the field he's getting a little bit wet in right now. A few people have exclaimed that time flies, but for me it's been the slowest year since I was a child. Clearly spending a year so far out of my comfort zone, sleeping in different places for six months, coming to see the world not just through Chico's eyes, but for a few moments through Kath's eyes, and every other of the hundreds of people who shared their view with us… It lengthened time, and if it lengthened time, it lengthened life.
I don't much like telling people what to do, but if there's something you're feeling scared of today, on this particularly lovely date when the land is going crazy with promise, maybe just think about embracing it. Be wild. Life is definitely short, but whether it's too short… That bit is in your power.