Is it for the views, the challenge, the exercise? Or the zen-like calm and hearty appetite? Hannah Engelkamp on word duty and Sarah Steinhardt on picture duty take two weeks and 190 miles to consider in some serious depth whether they actually like walking. And if they do, then why? (This story was written for the Outdoor Adventure Guide in 2010.)
"What are we doing today?" became the regular question, delivered deadpan every morning by whichever of us had got in first.
"Walking" came the monotone reply from the other one, probably not bothering to look up from one of the morning chores – refilling water bottles in B&B basins, sharing out snacks into eat-today and eat-later piles, packing Deep Heat and Compeed and waterproofs, the hipflask, the maps, the boiled sweets, the sketchpad (untouched), the contact details (almost papier mache), and the indispensable Wainwright Guide, into the day bag.
If we were feeling particularly tired and sore, or thought we were funny, we'd follow with: "And then?" "More walking," was the response. Sometimes we'd mix it up a bit, with a "What are we doing tomorrow?" whilst sitting wobbly legged in a pub, rehydrating with real ale at the end of a day's walk.
"Walking", the answer would come, as inevitably as would the act itself.
Do we even like walking?
Our favourite joke is that we're not entirely sure we like walking. It is quite same-y. You'd be entitled to ask what on earth had lead us to give up two weeks of our lives to embark on the coast to coast walk – the 190-mile crossing of England, from St Bees on the Cumbrian coast, to Robin Hood's Bay in Yorkshire. Check out the map – it's not even the narrowest bit, in fact it appears to deliberately deviate to take in an extra few days worth of walking.
On this day we're happy though – we've found a tea shop a mere hour into the day's walk and are eating scones and cream in a walled garden by the steep street that winds through Grosmont. Little do we know we're about to have to drag our full stomachs up 900m, the last climb of the walk, onto Sleights Moor, the last plateau from which we'll be able to see the North Sea, and the finishing line. On goes another dollop of clotted cream – we're feeling rather sinewy and tough by now, in the leg at least, if not in the mid-section. It's only been an hour or two since breakfast (the first time we'd declined the full English option in a B&B – it seems 13 full Englishs in a row might be the limit of human capacity). It's the last day, and we're reflecting on the two weeks gone by. One thing is for certain, if you want to be really truly aware of every day of your holiday, do a long walk.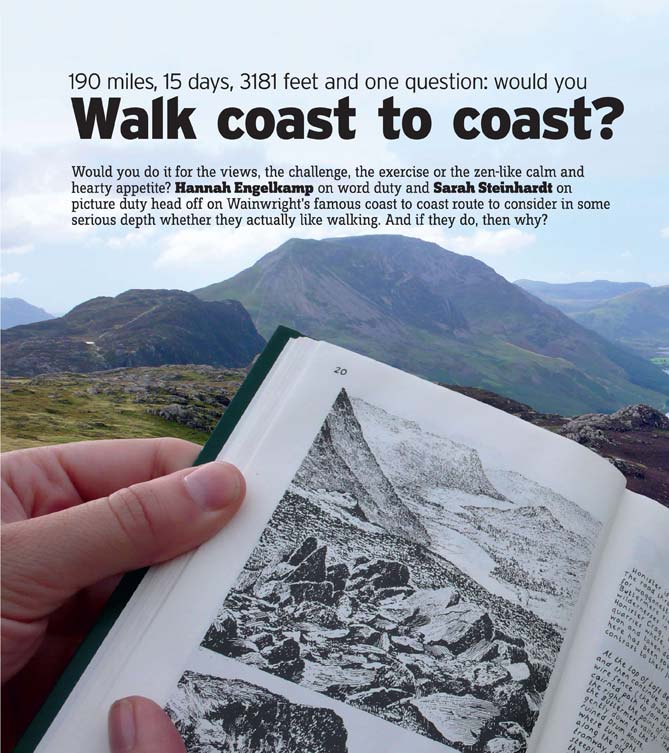 Lowland Cumbria, pleasure and pain
The first days feel long ago – the woolly grey Irish Sea under a woolly grey sky at St Bees where the walk starts out heading west around the headland. It'd be a shame not to spend some time by the sea, since the word coast is in the walk's name, twice, and we won't see it again for two weeks. But at the time, with half a mile behind you and 189.5 to go, it feels a little bitter. We took our starting-out photos, chose our pebbles (two each – one to throw into the sea at Robin Hood's Bay, and one to keep as a memento), opened our Wainwright Guide and began.
Alfred Wainwright devised this walk over many years, and it was first published in 1973. Wainwright, known affectionately as AW, is something of a pipe-smoking, flat-cap-wearing national treasure. He was apparently a humble man, so might not have been best pleased about the pictures of himself leaning against mossy stone walls, the many copies of his biography, the statues and plaques and even podcasts attributed and dedicated to him, all along the route. In fact, from the sort of in-depth reading of his coast to coast guide that comes from holding it in your hand for every step of 190 miles, I can assert that he'd not be best pleased about us doing it at all. Don't get me wrong, his directions are brilliant, and his draughtsman's drawings of every mile of the route, including contour lines, mile markers, and encouraging little comments like 'The first mile done and still going strong' are without a doubt all set down to be followed. Moreover, the book, with its dedication made out to 'The second person (unidentifiable as yet) to walk from St. Bees Head to Robin Hood's Bay', is certainly a gauntlet laid down. But he seemed to like the act of exploring, of uncovering overgrown and obstructed rights of way (and then becoming a vocal thorn in the side of the local authorities until they gave in and tidied them up), and most of all of improvising. He'd have disapproved of the sort of inflexible fidelity that we gave to the route, and might have been perturbed by the sheer numbers of people undertaking it – something like 10,000 people a year, according to some estimates.
The first day was 14 blackberry-fuelled miles, the weather got worse as the wet sky came on down to meet us. We climbed the small but relentless hill of Dent, buffeted and sliding about, chafing in our ill-chosen jeans, putting a brave face on the nagging feeling that this was only a hill while there were the biggest of the English mountains to come, and only day one with 13 more in store.
Our first B&B didn't let us down – its new owners had informed us on the phone that we'd be getting the best view on the walk, and that they'd put a hot tub on the deck to admire it from. Our already discussed suspicion that we like walking because the periods of effort or hardship make the pies and ale and hot baths and clean towels, all that much more enjoyable. The effort is simple: step, step, step; and the day's end rewards are simple too. With the gale howling around our heads, our hair and cheeks fiercely chilled and icy needles of rain squalling around in the dark, our bodies are submerged in the bubbling hot tub, and never was the contrast of pleasure and pain better acted out.
Heading for the hills, and walking to forget
Day two really felt like a journey. Perhaps it was because I put the hours in looking at the maps and reading ahead in AW's guide in bed the night before, as the day's belongings steamed on the radiators, but it's also because of the distinct sections. First there's a long lakeside path skirting Ennerdale Water, then there's miles of forestry, heading slowly up the long valley – not the most interesting, but easy. Then the valley floor rises up into a giant bowl, scattered with these strange pointy mounds, called drumlins. We met a man – we'll call him Adam – on the lakeside, and he pops up again here, scratching his head amongst the giant drumlins, poring over his map, glaring up at the mountains around us. We encourage him onwards, up Loft Beck, a stony riverbed straight up the hill. Adam is miserable. He's here because he just split up with his wife of decades, and since he had holiday booked in he thought he might as well do something. He's clearly a man in a quandary. I wonder whether he might not have been better off going somewhere noisy like Vegas – is all of this quiet and space good for a bruised heart?
At the top there are views across Buttermere, laid out with the kind of explanatory geographical clarity that I'm more used to getting from Google Maps. "Makes it all worthwhile, eh?" says Adam as we let our breath get back to normal. "I don't know if it is," says Sarah, and speculates that we're not doing it for the views. It's all about the walking.
We stick to a contour for a while, at about 1900ft, before hitting a dead straight, slate path – the old tramway of Honister slate mine. I've been here before, by road (for issue 84, since you ask), and this is one of the biggest hits of the walk for me – arriving somewhere I recognise by foot. What's more, arriving somewhere I thought was really high, from considerably higher! I'm looking forward to a beer in the Honister Youth Hostel, and I think Adam should have one too – surely he should be drinking to forget, no?
Stormy times ahead, and stubborn gallows humour
Day three (and don't worry, we won't be doing the whole thing in this detail, but this is the crème de la crème, England's most exciting landscape and AW's favourite – we don't want to gloss over it), is a hideous washout. We step out into ferocious pouring, gusting rain, and skies that have no intention of doing anything different. We're supposed to be going all the way to Patterdale, two nine-mile ascents away. The first comes down at Grasmere, then it's up again, taking in Helvellyn – England's third highest mountain – on the way.
We roll out the wry humour early on, as our clothing proves not to be too good at this sort of rain. It's getting in everywhere. The wind is strong enough to be trying to get our legs out from under us, making stepping stones even hairier. We take a wind break, hiding behind a dry stone wall for a few moments of comparative calm, having a wee nip from the hipflask for morale, and some chocolate to take away the taste of my ghastly cheap rum. A man coming the other way says he's camped on top, and asks where our gaiters are. "What's the point in gaiters if your trousers are wet and your socks are wet?" mutters Sarah. Well, she bellows it, thanks to the wind, but in the spirit of muttering.
As we get higher it gets worse, and I worry for our safety – there's not another soul around, the danger of being blown right off the rocks seems quite clear and present. It's the only thing that is clear – as soon as we're on the top of Greenup Edge, in thick fog with not a landmark in sight, we realise how easy it would be to head in completely the wrong direction. We figure it out though, and finally find ourselves with a band of other weatherblown folk, with a cheery man in a firmly fastened Tilley hat leading them down.
Our dejection at arriving in Grasmere at 4pm, wet to the bone and still nine miles from our B&B, is deepened on discovering that our mobile phones, and everything else, are swimming in six inches of water in the bottom of the backpack. Really, all you can do is drink. And laugh. And order a pizza, call a taxi, suck up the £45 fare and go to Patterdale by road. A very long road.
Backtracking, but rewarded in adrenaline
The next day hurts. Apart from the physical tiredness, there's the misery of leaving the gorgeous B&B, the recently opened dream of Danish Tine and English Jim. Tine's been up baking since 5am, the breakfast is jawdroppingly good (poached nectarines, smoked salmon, home-made muffins etc etc), but somehow we force ourselves out and mission backwards across the heart of the Lake District, on two buses, to Grasmere. Today was supposed to be a rest day, so luckily we're not messing up our other bookings, just missing a chance to not walk.
Bright sunshine is our reward, and we begin the walk, up to Grisedale Tarn, then up Helvellyn. It takes all day, and although you could miss Helvellyn to make it shorter it would be a shame. Also, it would seem a waste to charge through Grasmere – a sweet tourist village and the walk's first shopping opportunity. We spent a fortune on additional waterproof things, and it barely rained again, of course.
Helvellyn is well worth everything. The combined adrenaline of finding ourselves at 3118ft when the light starts taking on an evening glow, thanks to starting the day with two bus rides and a shopping trip, and realising that Striding Edge and its sheer drops are genuinely quite terrifying, really gets us moving. We wonder if we've gone the wrong way – surely English hillwalking isn't supposed to contain this little margin for error?
Ante-Lakes, and the joy of the journey
One of the worries of the coast to coast is that you get the Lakes first – how can the rest match up? AW feels (or fuels) your concern, dedicating a whole page at the end of the Lakeland section to the suggestion that you could change your plans and stay in the Lakes. "Stay if you want to and I'll carry on alone, and no hard feelings," he writes. "You'll think of something to tell the folks at home."
The day after Helvellyn, day five for us, takes us from Patterdale, straight up to the High Street massif, so called because of the Roman road up here. There is something great about crossing the Lakes, and in four days, from flat on one side to flat on the other. From the Kidsty Pike vantage point we have our sandwiches and look out east at the flatland ahead, and then plunge on down, past the Haweswater reservoir and the drowned village beneath it (the pub was called the Dun Bull Inn, as AW tells us mournfully), and on to Shap.
From here on in the going gets faster, and the sense of a cross country journey kicks in. Shap to Kirkby Stephen, a 20 mile stretch, is easy – or would be if we weren't so physically decrepit. My blister, Sarah's knees, we get through on painkillers, and worry about the eight days to come. Even so, we make the distance, coming in not too far after dark. Seeing the shelf of Kidsty Pike retreating behind us gives us a sense of moving through the landscape that it's hard to get in the Lakes. I feel bad confirming expectations by moving swiftly through the Dales, but it wasn't that we didn't like them. They had breathtaking stretches, made even more so by having no prior expectations. Nine Standards Rigg, a ring of giant cairns, at 2172ft the third highest point on the walk after Helvellyn and Kidsty Pike, is beautiful, as are the rest of the dramatic rolling moors on day seven. We arrive in idyllic Keld, and get a lift to the Tan Hill Inn, a brilliant sprawling pub all alone in the middle of the high plateau, right on the Pennine Way. There are bands on, a lot of signs about not annoying the feisty landlady, hearty food, a roaring fire, a pet sheep (Doner) and heaps of people mid journey milling about. It's without doubt a good place to stay up late, get drunk, sing karaoke and make memories, but we can't keep our eyes open.
Two mere 11-mile days help us get our strength back, walking through beautiful Swaledale, and past the carcasses of long-abandoned lead mines, built in the 17th and 18th centuries. A monumental event occurs when we arrive in Reeth with just enough time and energy to do something other than walk, eat or sleep, and we decide to blow it on a game of pool. Dale's Bike Centre put us up, another new business, still spotless and smelling of paint, run by an enthusiastic couple. Stuart (who we cannot stop thinking of as Dale), makes us bacon sandwiches and porridge in the cafe downstairs.
We find Adam again, standing in the middle of a junction in Reeth, inexplicably lost and panicking. The Yorkshire Dales are littered with dead rabbits, myxomatosis victims, and, as we stroll through the bracken he comments: "It's funny that they all die near the path…" We're glad to see he's still going, and he has a spark in his eyes – the journey has taken him over, he's going to see it through to the end. He's met lots of people (this seems to happen when you walk solo), and his breakup pain seems to have faded, put behind him, left in the Lakes. Perhaps miserable Greenup Edge was a cathartic right of passage for all of us, we all stride forward now, quietly proud of ourselves.
Richmond, and relax
Having lost our first rest day, the second comes at last, on day 10. We're in a self-catering eco lodge by a lake, meticulously done out. The kitchen is equipped for a series of Masterchef, but we just make pasta and sauce brought from Richmond en route, and hang around in our pyjamas, watching telly and doing as little walking as possible. Richmond is a nice town, all cobbles and winding streets, with a cafe culture. Most people stay in Richmond, but Brompton Lakes, our lodge complex, is a few miles the other side.
The Vale of Mowbray, and maybe it is about views after all…
This works perfectly for the next day – a 25-miler the anticipation of which is scaring everyone we meet. It's fine, in the end. Lesser mortals give into their fear, peeling regretfully off at one of a few uninspiring villages where they booked accommodation, as they realise they could easily have made the distance. The secret is, as AW makes no bones about, this day is boring boring boring. We didn't think we walked for the views, but now, without anything to look at at all, we realise we do. This is the Vale of Mowbray, a 25-mile valley floor between the Yorkshire Dales national park, and the North York Moors national park. We weave between fields and through farmyards, where kindly and enterprising locals have laid out crisps and fruit and an honesty box for your money. I'm not sure we need the sustenance – after all, we made it through shop-less days in the peaks, and we've got pack-lunches. The snacks are just there to alleviate the boredom.
We're treated at the end of the day by the most off-the-wall hotel, the Cleveland Tontine. Our room is pink and green, with eight table lamps none of which match, a massive iron bath with feet, and two glasses of sherry on the nightstand. It's an old coaching house, complete – we're told – with ghosts, and the food is expensive and exceptional.
The North York Moors, and walking meditation
Three days left, to cross the moors and make it to the sea. The moors are a fenceless, heather covered plateau, sitting some 700ft above the Vale of Mowbray like a separate disk of land, floating above the boring walk of the day before. The first day skirts the edge, where we meet friendly Yorkshire paragliders, leaping off to clear the cobwebs after a day in the office. The second day we get stuck behind a line of grouse beaters, shooing the fat, slow birds in the direction of the fat slow men, taking aim with their shotguns. It doesn't seem terribly sporting. Or sporty.
These moorland days pass in a heathery blur. It's not that they are less interesting – their beauty is as stunning as the Lakes, and in a calmer, friendlier sort of way. I remember every step of those first days, but very little of the last. I'm putting it down to a quietness of mind. While the body walks on, step by step across the country, our minds began to turn over more slowly. We'd discussed all of the topics we'd saved up, we'd even come as far as playing 'Animal, Vegetable, Mineral?' which later became 'Animal, Vegetable, Mineral or Metaphysical Concept?' when we ran out of animals, vegetables and minerals to guess. And beyond all this talking we found we could even walk in companionable silence. The meditation of the path ahead, the path behind, a good companion, strong legs, fresh air – we were finally in the zone, feeling good, moving across the country but remembering little.
Well, or that could be down to the blackberry brandy – brandy bought in dejection in Grasmere, with shaking, numb and sodden fingers, and blackberries, not good eaters, picked in boredom in the Vale.
And then here we are, on the last day, eating scones and flexing our muscly legs under the gingham tablecloth. A few miles further on, and we come across another scone-selling cafe, all dappled light and rough wooden tables, outside by a waterfall. What are the odds? None for 170 miles, then two on the last day. We do our duty, and have another scone break.
It's been the most varied and exciting route – the Vale of Mowbray merely underlining that every single other day had a distinct and equally dramatic character. And you just can't get better than the ultimate satisfaction of going from one sea to another, and accomplishing something to point out every time we see a map of the UK, for ever more.
AW kindly gives us a decent stretch of coast at this end too, three long miles up high on the cliffs, drinking in the sea view while the sun sets over the North York Moors, and the Dales, and Cumbria behind us. "What are we doing tomorrow?" says one of us. "Er, not walking?" replies the other. What will become of us?
How to do it
How many days?
We took two full weeks to do this, counting on two rest days that are better thought of as contingency days so that you don't mourn them too badly if they get snatched away. We'd definitely recommend splitting that Lakeland day into two – it's too far for one, and it'd be a shame to miss climbing Helvellyn, since you're right there. But it's great to have rest days too, which with our intervals would make the walk 15 days long.
The solution we hit on was, were we to do it again, to go up to St Bees on a Friday after work, and set off walking on the Saturday morning. 13 walking days and two contingency days later, you arrive in Robin Hood's Bay, stay there the Saturday night, and get the train back home on Sunday.
Getting your bags carried
We'd done the West Highland Way before and got stick from every person we met for using the bag carrying service, but on the coast to coast everyone was doing it. There are several companies doing it, we got ours carried by Sherpa for £7 per bag, per move, working out at £91 each if you do the intervals we suggest. We always expected something to go wrong, but no – every evening there were our bags, waiting for us in a new hallway. I forgot my spare walking shoes one morning (yep – if you get your bags carried you can take these luxuries!), but the Sherpa folk tracked them down and the shoes caught up with me a few days later. Sherpa will also organise accommodation for you for the whole route, and have most of the places that we stayed on their database. www.sherpavan.com
Which maps and guides?
AW never meant his guides to be your only book. His descriptions and drawings are brilliant, but if you do lose your way they're no use – they only show the immediate surroundings. An OS map is indispensable – and in the scarier Lakeland stretches you'd be foolish not to have one. And a compass, food and water, warm clothes and all the rest. There are strip maps available – OS maps but just for the route, otherwise you'd have to carry dozens. Try the two Harvey maps, Coast to Coast West and East, which we ordered for Castle Hill Bookshop in Richmond. www.harveymaps.co.uk www.castlehillbookshop.co.uk
Other things that come in handy
We shared a day bag, and took it in turns, which worked well – it was great to walk without a bag at all for half the time. Blister pads, painkillers, Deep Heat, boiled sweets (for a new lease of life if you're flagging), something to keep your hair out of your eyes, a camera with lots of memory (there are a lot of photo ops), an extra baselayer for warmth and a thin waterproof (works well in all combinations and is very light and not bulky to carry).
Things not to bother with
Stuff to do when not walking – you are always walking! Jeans (big mistake, they just suck up the rain, and chafe, and when you're not walking you want the kind of comfort only pyjama or tracksuit bottoms can bring!), normal socks (walking socks are so much better, they're worth the money).
Money
This isn't a cheap holiday. We spent not far off £1000 each, all told. I'm sure we could have made it cheaper – we had some posh meals, stayed in some nice places and had that disaster day in the Lakes, which was expensive – but I'd still budget on at least £40 a day for accommodation and a meal. That's £600, not counting getting there and back (both ends have trains a taxi-ride away), and bag carrying. Still, it's two weeks of constant activity, and it is a memory of a lifetime. I'm usually a bit tight, and I'd say it was money very well spent.
Where to stay
Book in advance – the accommodation near the route does get full. We found Kirkby Stephen particularly busy, due to sheepdog trials. Adam, in a perpetual state of panic, was trying to book as he went along, plus inform the bag carriers where he was, in a part of the country with almost no mobile phone signal. It just looked stressful to us (although he managed it, which is nice to know. If you don't want to commit to doing the whole thing, it appears you can make it up as you go along).
One particular benefit of being booked in is that it acts like a safety measure. If you're expected, especially if your backpack is already in the hall, your hosts will be able to alert mountain rescue if you don't turn up. No one will think it's funny if you were just in the pub though, so be considerate and keep them posted.
1st sleep
Ennerdale View B&B, Kirkland, 01946 862 311, www.ennerdale-view.co.uk
The beautiful view of the path to come reinvigorates a tired body almost as much as the hot-tub on the terrace! A walkable distance off the path (although up a main road), but the new owners, Jo and Paul Stanley, who have an infectious passion for their new life, are happy to pick you up from the pub in Ennerdale. On the subject of the pub, go to the Shepherd's Arms. Sarah thought it was the sort of place that might still have orange juice on the menu as a starter, but it was perfectly nice, with great local ale, and is apparently much better than the Fox and Hounds, a pricey gastro-pub that no locals care for.
2nd sleep
Greenbank Country House, Borrowdale, 017687 77215, www.greenbankcountryhouse.co.uk
A bit of a taxi ride from Rosthwaite, but it's a nice, quiet hotel on the outskirts of Keswick, perfect for passing out in after a second long day, and your first proper up and down. They don't do an evening meal, so we ate at the Scafell Hotel in Rosthwaite, which was stuffed full of walkers and dogs and ale and locals, most of whom weren't too worried by the fact that our legs weren't going where we directed them.
3rd sleep
Lowthwaite Ullswater B&B, Matterdale, 017684 82343, www.lowthwaiteullswater.com
And fourth sleep too. Tine and Jim, and their two little girls, get a great balance between luxury and practicality. The food, all home cooked, is absolutely outstanding, and they'll do an evening meal too, so book ahead. It's a way off the path, but so good we'd recommend it to anyone.
5th sleep
Newing Lodge, Shap, 01931 716719, www.newinglodge.co.uk
A huge hostel in Shap, easy to find and a good place to meet fellow walkers, and quite a lot of Australians! There's a map of the Lakes taking up a whole wall, which is handy if you're a bit confused about where you've been.
6th sleep
The Jolly Farmers, Kirkby Stephen, 017683 71063, www.thejollyfarmers.co.uk
In the middle of the nice little town of Kirkby Stephen, the Jolly Farmers is a brisk B&B doing a roaring trade. Their full English was delicious, and they have a lounge which is nice for meeting people. As many bus tourers as walkers.
7th sleep
Tan Hill Inn, Near Keld, 01833 628 246, www.tanhillinn.co.uk
We love this place. They've got camping out the back, or rooms in the inn. The place is all old flagstones, open fires, good grub and lots of it. They've got all sorts of events – Djs and bands, pub quizzes and karaoke – and they clearly have some die-hard fans. We were particularly interested in their New Year deal – three days holed up on the top of a remote moor, eating and drinking. The poster said: Guests have to do the washing up.
8th sleep
Dales Bike Centre, Reeth, 01748 884 908, www.dalesbikecentre.co.uk
A brilliant hub for the thriving mountain biking and touring community around here, and not half bad for walkers either. Practical luxury – the widest bunk beds I've ever seen, a self-catering kitchen, and a cafe downstairs too.
9th sleep
Brompton Lakes, near Richmond, 01748 850333, www.bromptonlakes.co.uk
Luxury eco lodges around a quiet lake, all tastefully discrete, and a perfect place for falling apart on a rest day in total seclusion. It also trimmed a few miles off the long next day, which is no bad thing. They give you a welcome hamper with jam, wine, milk, butter, bread and cookies – bring other groceries from Richmond. Our lodge would sleep six, and if you did have six people it would work out the same price as many of the B&Bs.
11th sleep
Cleveland Tontine, near Ingleby Cross, 01609 882671, www.mccoystontine.co.uk
Crazy antique old coaching house, with the most unusual interior design that makes you feel you might be in some drunk ageing filmstar's imagination. The people are all lovely – it's owned and run by the McCoy family now, together with their really fat cat. The restaurant downstairs serves delicious food, in small but perfectly formed portions – a welcome change from the heaps of pie and mash you'll be accustomed too by now!
12th sleep
Ingle Hill B&B, Great Broughton, 01642 712449
Run by a real character – the octogenarian (at least!) Mrs Sutcliffe. By the time we'd dropped our bags in our room and come downstairs she had a good old fashioned tea laid out in the conservatory. Lots of homemade cake later, we'd ruined our dinner, heard all about the B&Bs regular guests (many come every year for decades!), and felt right at home.
13th sleep
Egton Banks Farm, 01947 897 289, www.egtonbanksfarm.agriplus.net
A short journey from Glaisdale, but they'll come and pick you up. This one's another homely B&B on a working farm, with a friendly chatty host and a very impressive tea-pot collection. This was where we finally couldn't stomach another full English, and our host looked crestfallen. We'll have to go back.
YHA
The Lakes have more YHAs than anywhere else in the country, and we kept walking past them. We loved where we stayed in the Lakes, but thought the hostellers were probably having a more holistic walking experience – we often had to get taxis, buses or pick-ups from our hosts as a lot of the accommodation is a few miles off the path. Most wonderful of all is the remote Black Sail YHA, the hostel we passed on our second day's walk that has no road access. It doesn't fit in very well with the intervals of a coast to coast trip, but we'll be back one day to make it base for all the other walks in the area. Honister Hause is another big favourite of mine, and it could be a contender for the second night's stop, instead of descending to Rosthwaite.
More info
www.golakes.co.uk and www.yorkshire.com are both great resources, or call them up for advice.