Our little appearance on Wonders of the Coast Path is on ITV UK-wide tomorrow night at 8pm, so a good reason to get on with writing about the island adventure here. Also, there's more travels afoot, and so this is housekeeping – getting out the backpacks and bivvybags and finding them all full of the last lot of memories that badly need an airing.
Rhys was the orchestrator of the Chico-to-Bardsey plan, as my head and ambitions were deep in a nappy bucket (as mentioned here, including why we were on Bardsey in the first place, and then more poetically here) so I asked him about it – finding the courage to take a donkey on a boat, and how it went. Chico has become more and more Rhys' creature over the last few years – I feel like I have enough to cope with fathoming small children.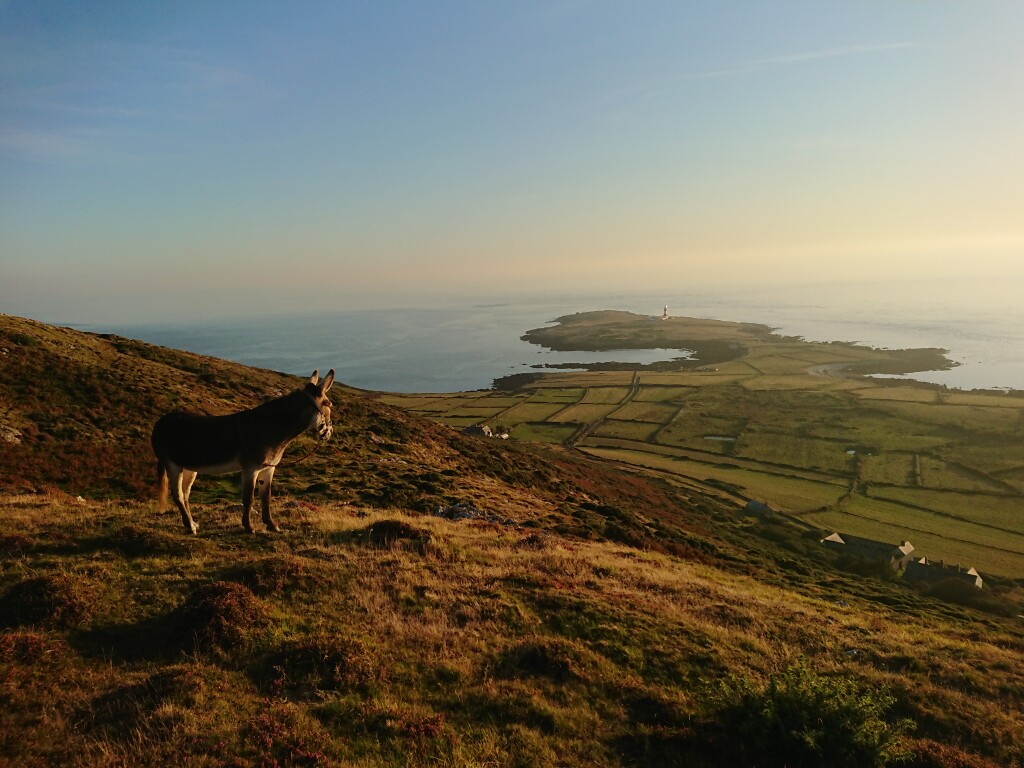 Chico and I love each other and respond to each other with a kind of simple bond of muscle memory and deep affection, and when he was on the island we walked together a bit. He'd wander off and it would look very much to everyone else like I didn't have any control over him, but then he'd come back. I just feel like I've done a lifetime of trying to be in charge of him and have no desire to do any more of that – I just want to be companionably near him, an equally flawed member of his herd. Luckily for all of us Rhys has his eye on a bigger prize – how to keep Chico in our lives and us in his.
This is what he said about it all:
Rhys: "I'd already walked Chico down to Cardigan the summer before, taking ten days to walk through the Welsh countryside, with a plan to see how he'd get on with mules. I want to do some training with him, learn about his… psyche?
I knew he had some issues, as will anyone who's seen the film (now available to download here!). Were they trust issues? Problems in his past? We know where we want to get to – we want to lead and be sure he'll follow, for safety really, and so we can do whatever we want, when we need to, with no ambiguity, no negotiation, not making joint decisions! But also because he is our friend, and it will be good to iron out some of the barriers to communication. He's super fantastic at so many things – great stride, unconcerned about trucks and tractors – but there are some things that are becoming obvious. He has bad associations with the head collar, and maybe with men.
Susannah is a mule breeder and trainer in West Wales, breeding huge, majestic mules from Suffolk Punch and other heavy draught mares, and training them impeccably. Mules (the offspring of a horse and a donkey) are at least as headstrong as donkeys, and enormously strong too, plus have some crazy skills like the ability to jump almost vertically to get out of a paddock if they're not comfortable. They need training really well.
All I see with Chico's issues are the barriers, and so it takes someone like Susannah to work out what's really going on – she's been able to tell such a lot about him already, just from observing his manner. I'll be learning some natural horsemanship – not a weirdy-woo idea, but the technique of learning from nature, from the animal itself. Tuning in to hear what it is trying to communicate, acclimatising to the way they think rather than anthropomorphising, and learning ways to desensitise them to the things that have bad associations for them. The training is likely to be as much about me becoming the leader by asserting myself in the correct manner.
Luckily Susannah was happy to help us, and I walked Chico down over a couple of weeks in order to become friends with him again, and prepare him for a new home.
Then we stepped in as the wardens of Bardsey and the training plan was interrupted, but we had a rare chance to spend some time with him. On the island we had fields and paddocks, yards, tracks and no traffic, and I thought, why not?
He hadn't been in a horsebox for years so I left it in Susannah's paddock with him and the mules and camped there too, and after a few days he used it as a shelter and was happy to get in and out. He still shook a lot on the journey though and my stress levels were pretty high. Fair enough – he didn't know where he was going. We camped overnight and he got a chance to calm down, but he was pretty pissed off with me.
There was an animal trailer going over to the farm on the island anyway, so I'd planned to put him in there, shield him a bit from the sight of the expanse of water. The farmers on the mainland helped me get him in there, and towed it onto boatman Colin's landing craft. It was a bit windy, not too bad, but he was smelling the sea and the animal smells in the trailer. I stood right next to him throughout.
The island dumper pulled the trailer off and we let Chico out and he was his usual self at the end of a day's journey – demanding. No chatting! Take me somewhere good! I got to lead him on the triumphant inaugural walk along the island's one track to the warden's house at the far end. To the island's oldest inhabitants and record keepers he was the first donkey known to have set foot there.
The wardens' walled green lawn yard became his home, and he settled quickly, and latched on to me. He could watch people go by, cruise up and down our garden path, go round to the front terrace and look out over the whole island. He became part of the family again, and part of the wardening team – he'd come with me to check the well water levels every day, along tiny paths through bracken. We'd do the rounds, and as I was digging the hole for a wind turbine he'd join me in the field and graze nearby. I gave him an old butter room, now an outside toilet, for shelter, and he'd walk through the cobbled workshop to get there.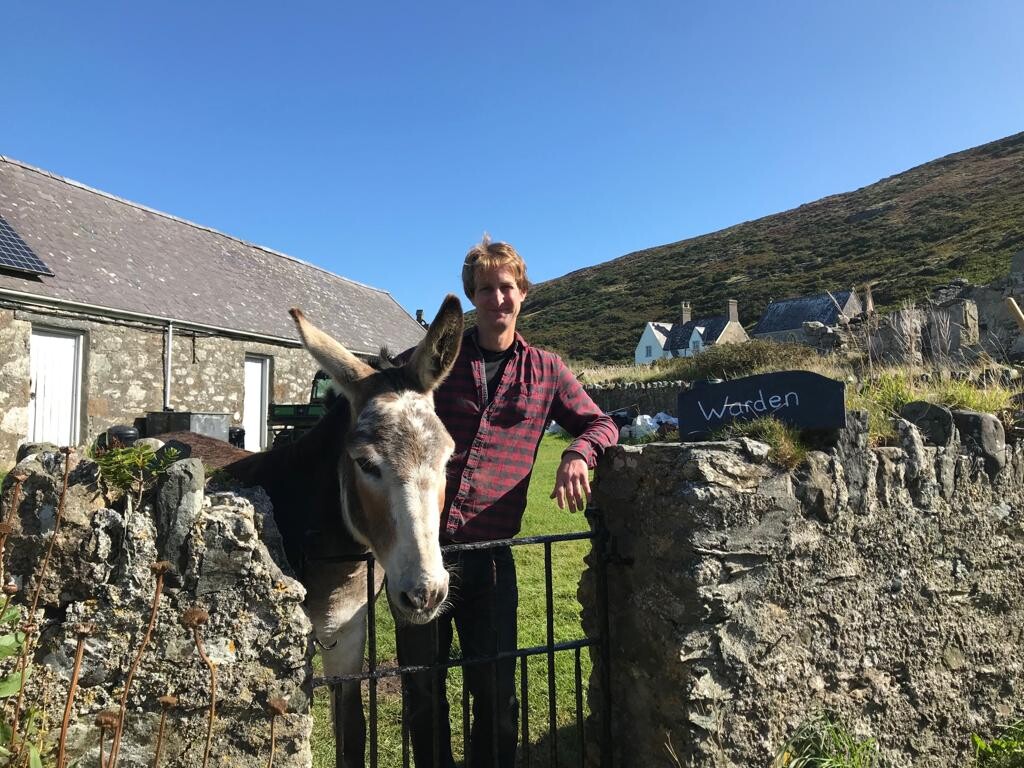 Luckily he couldn't turn the corner in the porch or he would certainly have joined us in the house. Chico's always been good with children – he just understands that they are different to adults. He didn't mind there being a baby crawling about. Three-year-old Osian got a bit too bold as he got used to him, and Chico raised his hoof in warning a few times when Osian ran up behind or banged into him, followed by one small kick – alarming but justified.
In a stroke of bad timing his nemesis animals had themselves only just been reintroduced to the island – pigs! The farm was keeping a bunch of piglets and the island guests could take their scraps down to feed them over the gate. Chico hates pigs, his number one worst thing – the smell of them is like a forcefield around them and he won't take another step. We had to go right the way over the island's little mountain, or through the farm's veg garden, to get to the far end of the island – including under pressure on our last day at the end of autumn, when walking him back to the boat while the tractor followed along, piled up with stuff and children.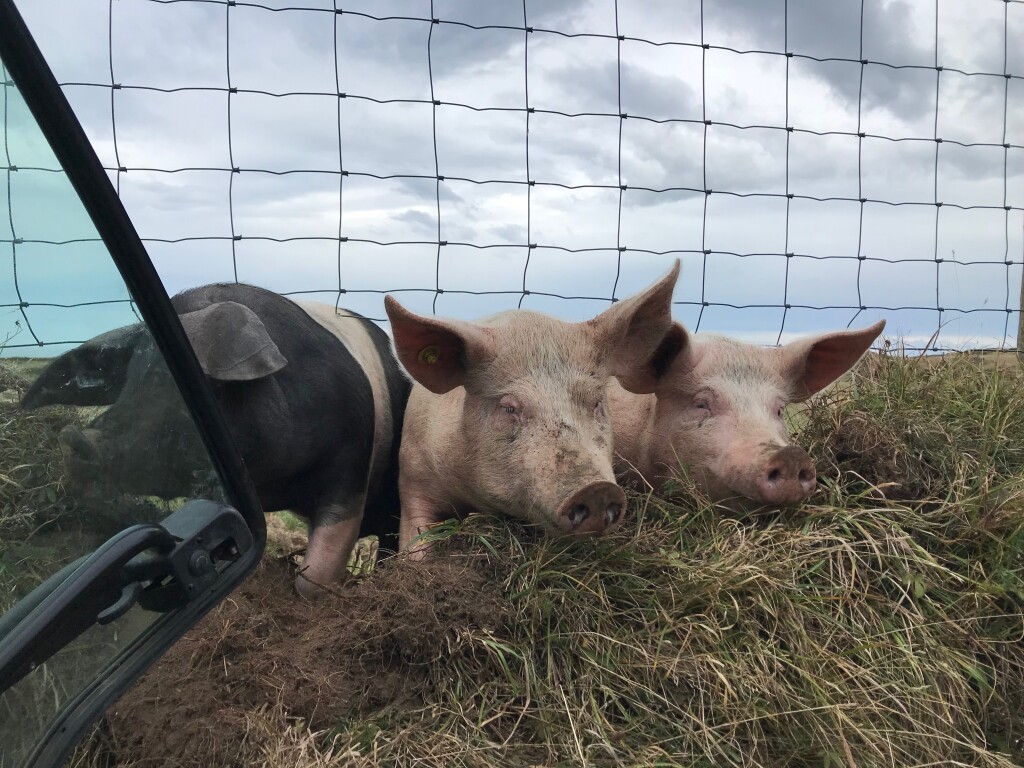 So now we're back in Aberystwyth and Chico's back with the mules. I'm interested in the idea of riding a mule with Chico along as companion, but of course he's made friends with the biggest mule of all – I'll need to carry a step to get on.
I'm excited to start learning. My mum had an affinity with animals, at odds with the rest of her family. She learned to ride and once looked after a racehorse for a sheik in Ireland. I did a lot of riding too, as a kid – gymkhanas and leading rein which is like children's dressage where your parents dress up and you have to plait the pony's hair. I thought it was a bit silly – I remember telling dad I just wanted to ride like a cowboy, and in the gymkhanas I could – I'd run alongside and leap onto the galloping pony. But I do remember that at the age of about 5, 6, 7, I could get the pony to do what I wanted, walk backwards, let me stand on its back, with really subtle communication, gentle pressure. So I've had a taste of how it can be.
Chico was very young, only just five, when he and Hannah walked around Wales. Their relationship was of two confused creatures working it out as they went along, taking it out on each other, wearing each other down and coming to love and trust each other. That was all good for comedy and jeopardy for the experience and the film and book, but this is the next chapter.
Chico is an older, calmer, steadier animal, 12 years old, and now we're really going to get to know him."